The Centre for Urban Research on Austerity (CURA) explores the effects of austerity, retrenchment and neoliberalisation on urban living and the responses of urban-dwellers. It is concerned with supporting genuinely sustainable development, the elimination of poverty and inequality, and with giving a voice to those marginalised and dispossessed. The centre welcomes applications from students interested in contributing to a radical, research- informed policy landscape, to enable and empower grassroots democratic participation, and overcome intersecting inequalities in urban contexts.
If you are interested in developing PhD research in a field related to cities, urbanism and austerity, we would welcome an inquiry from you. Please email Dr. Adam Fishwick at adam.fishwick@dmu.ac.uk or Dr. Valeria Guarneros Meza at valeria.guarneros@dmu.ac.uk with a working draft research proposal.
For more information about postgraduate studies at CURA, download our Postgraduate Brochure by clicking on the image below, or for specific admissions enquiries, contact the Doctoral College by emailing pgradmissions@dmu.ac.uk.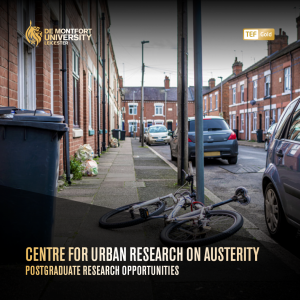 CURA has expertise in a variety of fields, disciplines and subjects linked to urban studies, including politics, public policy, sociology, geography, law, industrial relations, business and management. Research interests cover austerity, governance, labour, urban dimensions of racialised inequalities, and revitalizing cities, with four key themes cross-cutting these priorities: the new municipalism, urban informality, intersectionality, culture and Latin American urban studies.
Austerity governance and resistance
Austerity urbanism and governance under austerity
Practices of austerity governance
Spatial governance including neighbourhood and place
New municipalism
Primary contact
Professor Jonathan Davies
T: +44 (0)116 257 7818
E: jsdavies@dmu.ac.uk
Urban labour
Labour activism and collective organisation
Informal and precarious work and everyday life • Urban social movements and resistance
Extractivism and urban violence
Urban revitalization
Local economic development
Quality of life and inclusive growth
Place making, identity, and the living realm
Culture, arts, and social-culture equity
The city as a resource
Primary contact
Professor Rachel Granger
T: +44 (0)116 250 6093
E: rachel.granger@dmu.ac.uk
Racialised inequalities
How austerity is produced through and experienced as racialised violence
Gendered dimensions of racial inequality
The racialisation of urban space and resistance
Structural inequalities intersecting with race – class, gender and disability
Primary contact
Dr Amina Easat Daas
T: +44 (0)116 257 7423
E: amina.easat-daas@dmu.ac.uk