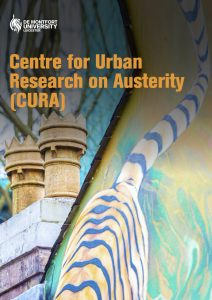 Welcome to the blog page for De Montfort University Centre for Urban Research on Austerity (CURA) – the UK's only centre dedicated to urban austerity research as cited by the Times Higher Education Supplement 2015.
We launched this blog, and the Centre, at a critical juncture.  After the bubble economies of the 2000s, and the great crash of 2008, austerity has become such a deeply embedded principle of mainstream politics, that it seems unquestionable.  With variations in tone and intensity, austerity remains the governing orthodoxy in the EU and here in the UK.
CURA Research Brochure 2020-21
At the same time, spearheaded by Greece and Spain, we have seen huge anti-austerity movements explode into life, fade from view, and explode onto the stage once again. Most critically for our Centre, the city is the fulcrum of the global austerity conjuncture: it is where austerity bites and where austerity battles unfold.  And with the rise of "localist" ideologies, it is once more the object of serious political attention from national and international elites, heralded as the dynamo of "resilience", and post-crash cultural and economic renaissance.
The task of CURA is to study and make sense of the austerian conjuncture, its contradictions and limitations. The blog is a space for information about our projects at De Montfort University, opinion pieces on cities and austerity, and contributions from academics, practitioners, commentators and activists/insurgents with an interest in austerity, broadly conceived. CURA is part of the Leicester Urban Observatory, a collaboration between urban practitioners at Leicester City Council and academics at  De Montfort University, the University of Leicester, and Loughborough University that aims to establish and develop a combined centre of excellence in urban studies and planning for Leicester.
To find out more about CURA's aims and objectives, members and research themes, you can download the latest brochure here.
This blog is managed by CURA Research Assistant Sally Ward  who can be contacted at sally.ward@dmu.ac.uk. We welcome contributions from far and wide.  If you would like to write a piece, please email Sally explaining briefly what you would like to say.
Core CURA Staff
Dr Adrian Bua– Adrian.bua@dmu.ac.uk
Mark Charlton
DMU Head of Public Engagement
Dr Merce Cortina-Oriol– merce.cortina-oriol@dmu.ac.uk
Dr Erika Cudworth – erika.cudworth@dmu.ac.uk
Professor Jonathan S. Davies (Director) –jsdavies@dmu.ac.uk
Dr Amina Easat-Daas – amina.easat-daas@dmu.ac.uk
Dr Adam Fishwick– adam.fishwick@dmu.ac.uk
Dr Regina Frank – regina.frank@dmu.ac.uk
Dr Ariana Giovannini – arianna.giovannini@dmu.ac.uk
Professor Rachel Granger– rachel.granger@dmu.ac.uk
Professor Steven Griggs– sgriggs@dmu.ac.uk
Dr Valeria Guarneros Meza– valeria.guarneros@dmu.ac.uk
Professor Richard Hall – rhall1@dmu.ac.uk
Dr Jennie Jordan – jjordan@dmu.ac.uk
Dr Indrani Lahiri – ilahiri@dmu.ac.uk
Dr Jamileh Manoochehri – jmanoochehri@dmu.ac.uk
Dr Sara Lara Marquez-Gallardo – sara.marquez-gallardo@dmu.ac.uk
Dr Adriana Laura Massidda – adriana.massidda@dmu.ac.uk
Dr Steven Parker – steven.parker@dmu.ac.uk
Professor Jonathan Payne– jpayne@dmu.ac.uk
Dr Zoe Pflaeger Young – zoe.young@dmu.ac.uk
Professor Jo Richardson– jrichardson@dmu.ac.uk
Associate Dean for Research
Dr Mark Roberts – m.roberts@dmu.ac.uk
Professor Julia J.A. Shaw– jshaw@dmu.ac.uk
Dr Simon Stevens – simon.stevens@dmu.ac.uk
Dr Ed Thompson– ethompson@dmu.ac.uk
Ms Sally Ward (Research Assistant) – sally.ward@dmu.ac.uk
Dr Ben Whitham– ben.whitham@dmu.ac.uk
PhD Students
Jonny Ball
Sharon Ball
Miguel Bravo Candela
Mark Charlton
Arunima Ghosal
Marco Gottero
Ibrahim Has
Tabea Latocha
Martina Locorotondo
Paul O'Brien
Robert Ogman
Heather Powell
Leon Reichle
Angela Sibley-White
Associate Fellows
Dr Raphael Bischof
Dr Jenni Cauvain
Manuel Fernandez Garcia
Professor Mike Geddes
Ines Newman
Dr Hilary Shaw
Dr Richard Vilaregut
The centre was launched at a workshop in November 2015, with a keynote lecture by Professor Erik Swyngedouw (University of Manchester) and Professor Karel Williams (University of Manchester).
During the event, we interviewed the Centre's Director Professor Jonathan Davies, Professor Karel Williams and Professor Erik Swyngedouw. Here is what they had to say about the challenges facing CURA:
Professor Jonathan Davies
Professor Eric Swyngedouw
Professor Karel Williams